Full-day cruise
Unrated0 Reviews0.0
From Naxos to the small cyclades
Naxos, Cyclades
Private motor boat day cruise from Naxos to the small cyclades
Duration

8 hours

Activity level

Relaxed

Includes

Snorkeling gears, Snack, Drinks
What you'll do
Join this luxury private cruise to the small cyclades and explore secluded beaches, and untouched bays. Swim in pristine clear water, and relax onboard with a cold beer or a refreshing glass of wine.
We will start from Naxos marina at 9:30 am (please be ready to board at least 15 minutes before). After a comprehensive security briefing, we will head south. Where exactly ? Shhh that's a secret! You don't want to get too much people on your pictures, do you ? We will adapt our cruise depending on the weather, and on where other boats are.
We will give you free time to explore the surroundings of the chosen village, eventually have lunch in one of the local taverns. Drinks are available at each stop (please drink responsibly). Alcoholic beverages are available for guests older than 18 years old only as per local law.
Guests should be able to walk, board the boat, and not present any back injury. Pregnant guests are advised to contact the crew before booking.
Health & safety measures related to COVID-19
We are doing our best to make this experience safe. Here are a few measures we took to help staying healthy while providing the best enjoyment possible.
Experience must be booked online in advance to avoid crowd
All customers touch points are frequently disinfected
All protective equipment is provided (masks, hand sanitizer)
Temperature checks are mandatory for guests and crew members
To read more about the measures we put in place to keep you safe, read our Health & Safety measures page.
Pictures from our guests
What's included
Food

Light snacks

Drinks

Soft drinks, Beer, Wine, Water

Equipment

Snorkeling gears
Your itinerary
Itinerary given as an example of what you can expect during the day. Subject to modification by your captain. Please book a private transfer or a private day cruise if you want to choose the destination of your cruise.
Meeting point - Naxos Main marina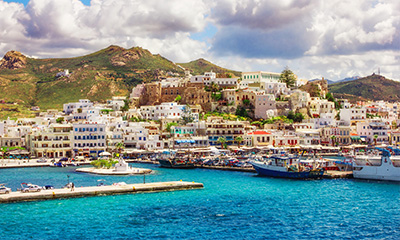 We meet 15 minutes before 9:30 am at Naxos main marina for boarding. After a short safety briefing we will be ready to start the adventure!
First Stop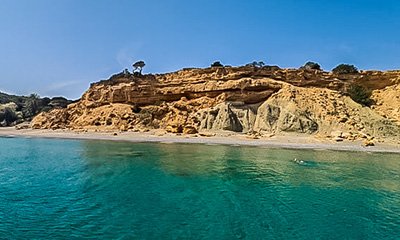 Depending the weather conditions, we will start our to trip to either the "Small Cyclades" or "Paros". Cruising at a comfortable speed and reaching one of the unique beaches on offer, we will be able to swim and explore the area for about an hour. Sunbath on the deck, enjoy a refreshment or take your time for photo shooting.
Second Stop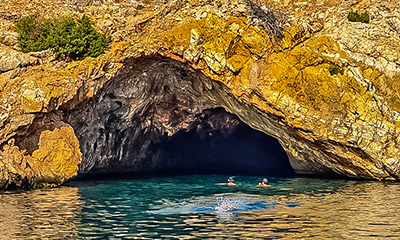 At short distance of our first stop, we will find the next destination waiting to be explored. Take the snorkeling equipment we provide for you and make your moments unforgettable by taking photos with our waterproof camera! Keep in mind that we can change the schedule a little bit according to your liking, but remember, we still have two stops ahead of us.
Third Stop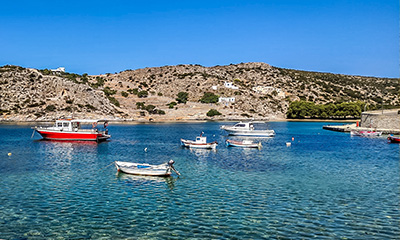 We will give you free time to explore the surroundings of the chosen village, eventually have lunch in one of the local taverns (we can advise you!), or just relax with a coffee under the sun, the greek way. You organise this time as you wish, and come back at the given time to continue the adventure.
Fourth Stop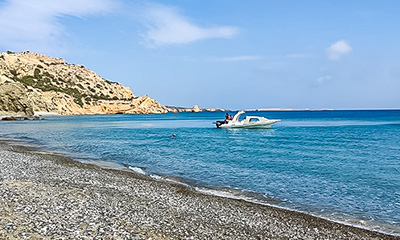 Last but not least, we will have the time for one more swim at another paradisaical beach or relaxation on the boat, enjoying a fruit salad and refreshments, before we start our way back to main Naxos port!
Reviews
0.0 Unrated Based on 0 reviews
---